Nutty Bavarian Glazed Roasted Nuts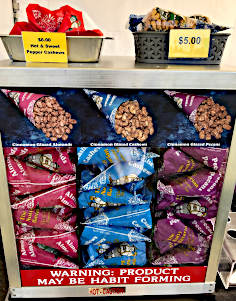 In October 2015 we were introduced to the Nutty Bavarian. Then in the Spring of 2016 we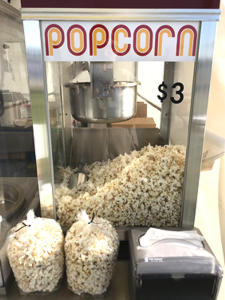 decided to add the product line under the C.R.S., Inc. umbrella.  Roasting glazed nuts for sale both online and at events would be a new adventure for us.
There has been a few little hurdles to overcome in regards to setups at events and equipment to use.  Eventually we figured it out by redesigning and building our own roasting cart and modifying the canopy.  The last thing to overcome is finishing the roasting trailer—so we can setup on a fly—we're getting closer!
So not only do we roast nuts we also make our gourmet popcorn.  We refurbished a popcorn machine manufactured in 1992 that we purchased from Fairchild Air Force Base. Originally used in the old military base movie theater.  To make Sweet and Savory Roasted Glazed Cashews we add our Spud Spikes Pepper blend.  Popping the popcorn seeds we use 3-blend oil and real butter.  To seasoned the gourmet popcorn we use our Spud Spikes Garlic blend.
Need Snacks at your Event?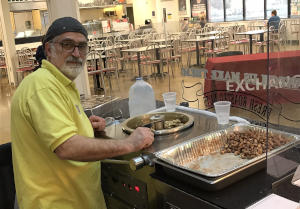 The Nutty Bavarian Glazed Roasted Nuts (including salted cashews) are considered snacks and do very well at events.
We can do a partial setup, where we simply bring in the prepackaged products and use a warmer to keep the nuts at just the right temperature. Or, for longer events, we can set up a canopy.  It houses the 200-pound custom cart (designed for our popup trailer) with roaster, to roast nuts along with the warmer. We are currently converting a popup trailer to a fully contained concession trailer, to make it easier to roast nuts on the fly.
Our equipment (roaster, warmer, and wash station) requires a dedicated 20-amp circuit.  We can also tap into a 30- or 50-amp circuit. We do have a very quiet generator that we use at most outside events.  It requires a 20–25-foot setback from the canopy, to meet the fire code.  We can roast nuts inside as well as out.
Our Portfolio of Events outlines different event setups for the viewing. Got an event such as a beer garden, concert, festival, sport, wedding, birthday, car lot sale, employee party, etc.? Then contact us, so we can discuss the details and get you on the calendar!
Food Truck Associations
To get awareness to our business and the products we offer—we joined two Food Truck Associations in Spokane and Bellingham, WA.  Check them out:
Greater Spokane Food Truck Association
Washington State Food Truck Association
Company History
C.R.S., Inc., has been in business here in Spokane since 1976. It has been an interesting journey, to say the least. After representing other manufacturers' products for many years, it was time for us to roll out our own product line.  And that's just what we did in 2003 when we introduced the popular Spud Spikes brand. Designed to help potatoes cook evenly, get a better-tasting crispy skin, and reduce the overall baking time. Spud Spikes also help to keep brats straighter and juicer, and to cook faster. We are the co-manufacturer, and we sell this brand all over the world.
In 2011 we introduced the Spud Spikes Gourmet Potato Skin Rubs and Everyday Seasonings (Original Blend, Garlic, and Pepper). In 2014 we created new lower-sodium seasonings from the original recipes, and rebranded the new recipes under the Burly Babe brand. This is why we had both brands of gourmet seasonings on the market.  Including our Burly Babe gourmet garlic popcorn seasoning (lower sodium content).
In 2014 we also introduced our Burly Babe tender meat snacks.  And in 2015 we modified the recipe by cutting the amount of seasoning to a lower sodium level. However in December 2017 we took the product line off the market so we can put more energy into the Nutty Bavarian product line.
Corporate Structure
C.R.S., Inc., is a Washington state corporation. The guiding force behind C.R.S., Inc., is Leon A. Frechette, president, who's been in the forefront since 1976.
An author of seven books about remodeling and construction. Leon has spent over 30 years in this industry and has written over 100 articles for more than a dozen magazines. He has toured home and garden shows in the United States and Canada with his popular "ToolTALK" and "ToolTALK for Women" presentations. And has fielded questions for a weekly newspaper column for over two years.  Leon the Tool Pro provides the knowledge,  expertise, and experience behind all of the products that are selected and offered on his websites under the C.R.S., Inc. umbrella.
In September 1998, Leon took C.R.S., Inc., into the world of cyberspace; now it encompasses asktooltalk.com, bondhustools.com, polecoverings.com, and spudspikes.com.
At C.R.S., Inc., our mission is to provide the very best products that can help our customers in their daily activities and enjoy great snacks at the same time!